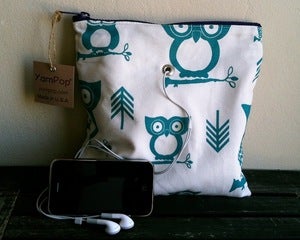 $

34.00
Are you an on-the-go knitter who carries all kinds of gadgets with you? Then our newest Yarn Pop will help you keep everything organized in one place.
"Gadgety" Yarn Pop provides an interior zipper pocket to keep items separate. Perfect for carrying a phone, needles and notions, this zipper pocket provides a second grommet with access to the outside world (great for headphones or even a second skein).
Use "Gadgety" Yarn Pop to:
- Organize your yarn and carry your gadgets safely tucked away in their own zipper pocket.
- Carry phones, needles, extra yarn and anything else you want to have with you but separate from your main skein and project.
- Transport your project in your existing purse or bag easily.
- Store yarn, needles and your pattern in one place while you have a Work In Progress.
- Stop using plastic zip bags for storage of yarn during projects.
Bags are made out of 100% cotton and are machine washable, and should be air dried. They can be lightly ironed when needed, as well.
This bag is:
9"h x 9"w
100% Cotton Canvas - Exterior
100% Cotton - Interior
One Exterior Zipper
One Interior Zipper Pocket
Two nickel plated brass grommets (one on each side of the Yarn Pop)
** Phone not included.